It is stating the obvious that the points of sales have continuously strengthened its importance in the FMCG route-to-market. The POS has become the place where shoppers make most of their purchasing decisions. Sometimes their needs even appear just at the store shelf as an impulsive reaction to a trigger like attractive merchandising or a promotional offer. Thus, the closer you collaborate with the stores, the better. It is best if you do it continually, regardless of the coverage and frequency limitations of your field sales teams.
Nowadays, you face some significant constraints on traditional field sales, like limited coverage and frequency. Consequently, your team spends too little time in the store and lacks immediate reactions to urgent situations. You also miss a lot of sales opportunities because you are unable to cover all possible retail outlets with your mobile resources. Last but not least, your collaboration with retailers could be improved.
So, what else can you do to improve your relationship with retail customers?
The answer is very simple in these times of digitisation. Complement traditional visits in the brick-and-mortar stores with digital self-services to make an impact on the POS in-between the face-to-face calls. Connect your organisation with the points of sales on-line and transfer or expand some of your sales processes into virtual reality. This includes e.g. brand communication, order in-take, merchandising etc. Establish a self-service Customer Portal as a complementary solution to your mobile retail execution technology.

What field processes can you digitise with a Customer Portal?
Communication. Stay in touch with your retail customers all the time (24/7) and react appropriately to every situation when your intervention is needed, even in-between your sales representatives' face-to-face visits.
Training. Provide the stores with constant and factual information about your brands, products, novelties, special or seasonal offers, dedicated trade terms, etc.
Contracts. Agree on the rules for cooperation with your customers. Provide on-line monitoring as to whether the retailers discharge their obligations.
In-store execution. Enable the store personnel to place orders in self-service mode, as well as take care of merchandising and Perfect Store standards regularly on your behalf.
Motivation. Assign targets for each store and track the results continuously. Link the POS' activities to trade terms, compensation or bonuses to make their staff more enthusiastic about working on behalf of your target accomplishment.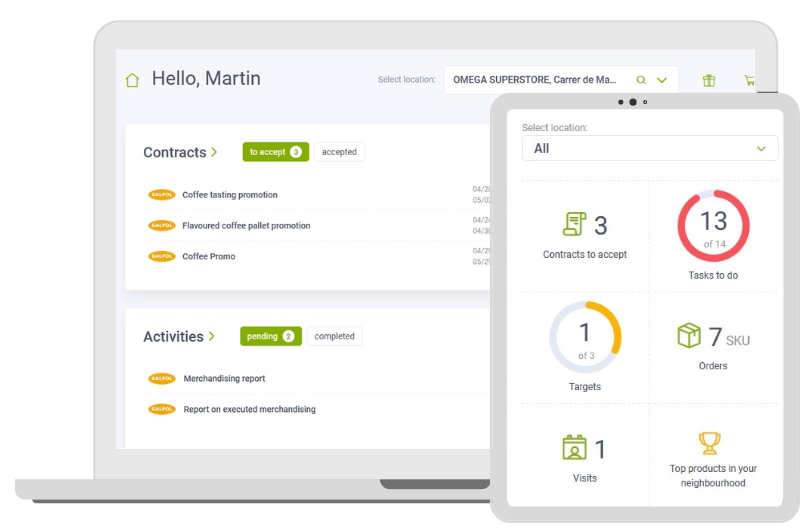 What are the benefits?
Digital collaboration with the points of sales is an additional channel allowing you to collect and exchange information with retailers regularly and complement your face-to-face visits efficiently and effectively; even if you are not frequently on-site.
The tangible benefits include easier promotion introduction and execution, launching new products more effectively, keep the shelf standards high continuously, initiate ad-hoc replenishment avoiding out-of-stocks. Besides, you can expand into those points of sales which are not (yet) served by your mobile staff.
Read more about Mobile Customer Portal by Asseco and increase the impact on the point of sales employees at their workplace!