Sales Force Automation
& Retail Execution
We offer consumer goods manufacturers a leading-edge Sales Force Automation & Retail Execution solution. It covers fundamental features related to both sales planning and in-store execution. It also provides advanced functionality like Perfect Store, Retail Activity Optimisation, Motivation and Coaching. All to help you sell better and sell more at the POS.
Mobile Touch by Asseco is a modern sales platform combining a solid SFA foundation with the next-generation solutions for the FMCG industry.
Win at the shelf with Mobile Touch by Asseco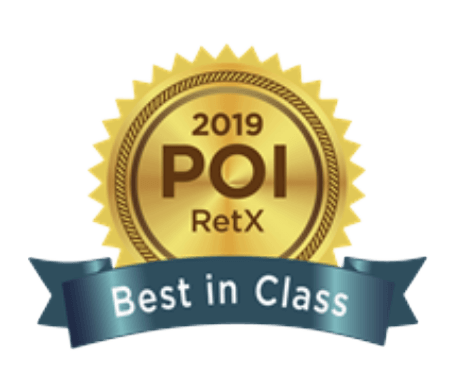 POI Best-in-Class distinctions
Our SFA & RE solution has once again received multiple POI "Best-in-Class" awards in the most recent report "2019 Vendor Panorama for Retail Execution and Monitoring in Consumer Goods" by the Promotion Optimization Institute.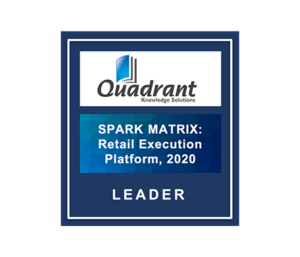 SPARK Matrix™ Technology Leader Award
The global research and advisory firm Quadrant Knowledge Solutions, has highly ranked the Retail Execution Platform - Mobile Touch by Asseco in its recent SPARK Matrix analysis.
The functional scope of Mobile Touch by Asseco
Mobile Touch SFA Fundamentals helps you to plan all the activities related to managing and closing sales in the field efficiently and effectively.
Calendar. Plan field activities. Display priorities and use a broad range of visit categories, such as call, phone, email, etc.
Routing. Determine the best and the most optimal way to reach your customers.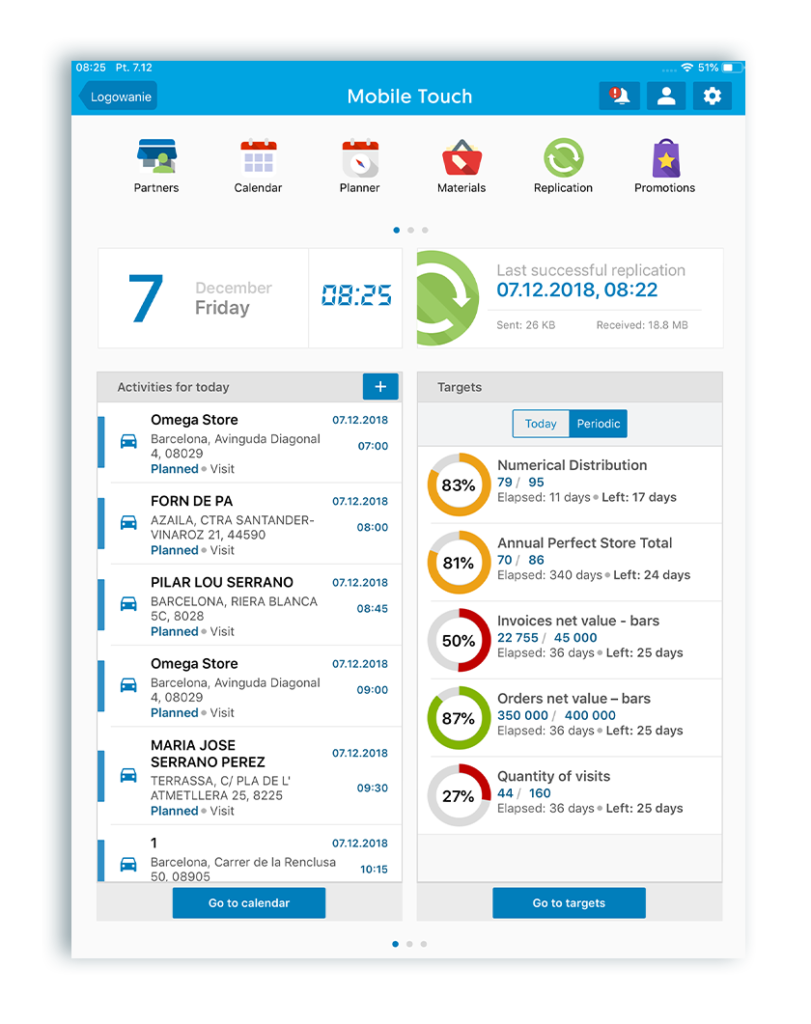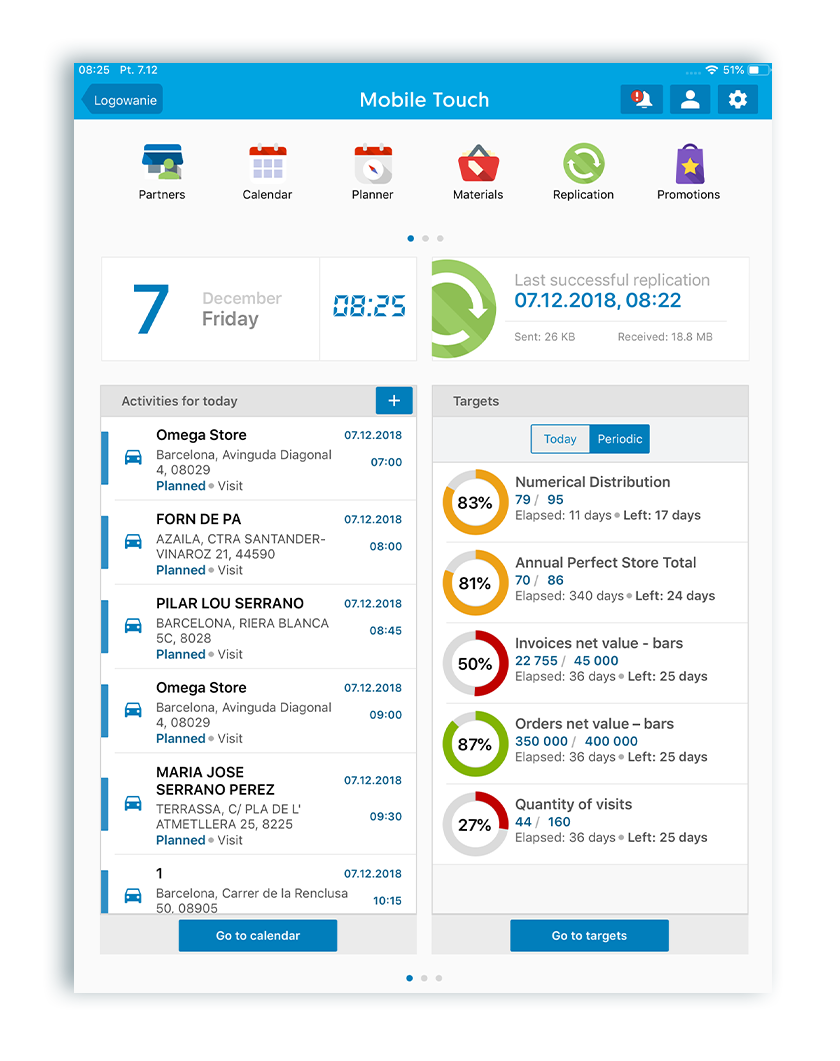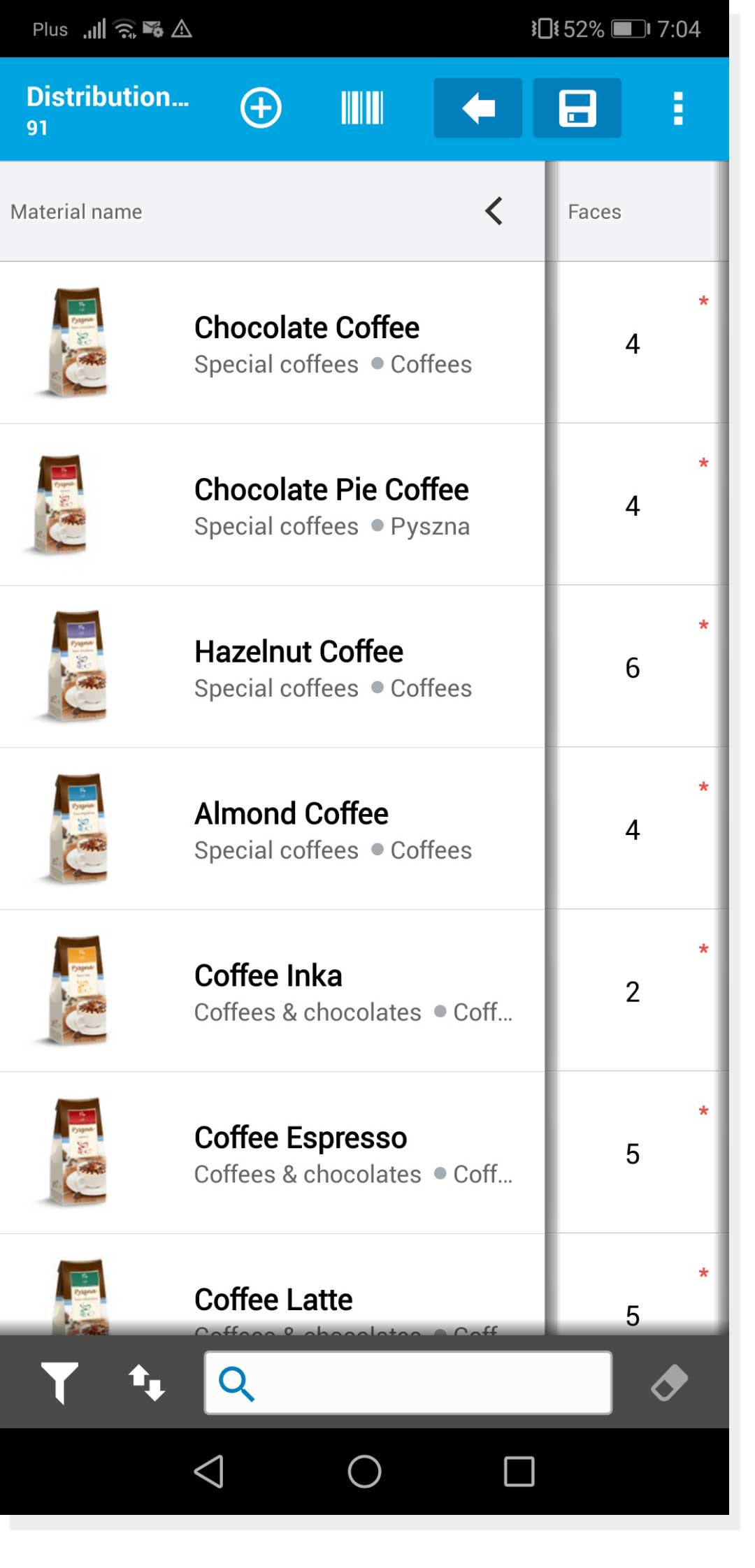 Mobile Touch SFA Fundamentals supports your sales representatives in executing sell-in and sell-out activities at the points of sales efficiently and effectively.
Surveys. Enable effective in-store monitoring. Create questionnaires regarding KPIs like availability, facings, shelf share, etc.
Orders. Facilitate the order taking process at visited stores no matter whether you take direct, indirect or POSM orders.
Promotions. Efficiently manage and settle promotions at the POS. Monitor their results.
Contracts. Set up and monitor the agreements with your customers.
Fixed assets. Enable your sales representatives to control your fixed asset instalments.
Inventories. Ensure that SKUs, samples or POS materials are properly transitioned from warehouses to vehicles to points of sales.
Cash collection. Support your cash intake and reconcile with other payment methods like cheques.
Mobile Touch Perfect Store allows you to create and maintain the best sales conditions at visited stores reflecting the three main factors that drive sales at the POS: availability, visibility and promotion.
Objectives. Define, manage and deploy your individual KPI models reflecting your Perfect Store standards based on selected customer segments.
Guided selling. Provide sales representatives with access to your picture of success.
Execution. Enable real-time in-store excellence auditing reflecting your Perfect Store standards and generate gap mitigation recommendations.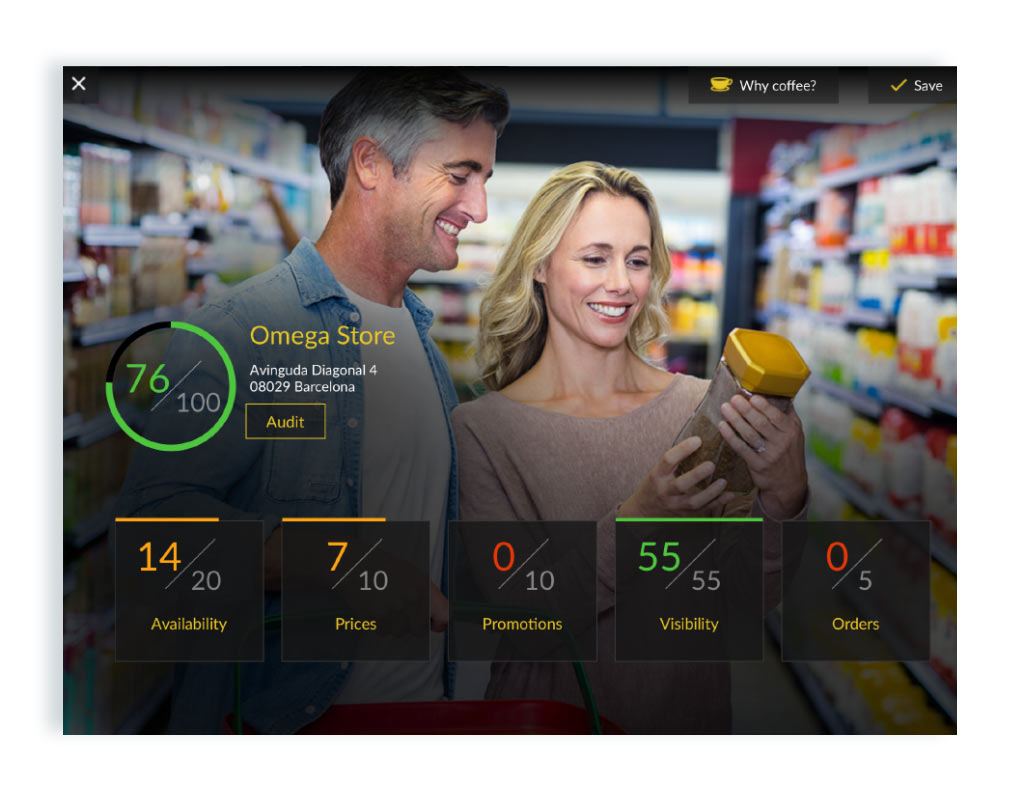 Mobile Touch Retail Activity Optimisation
Mobile Touch Retail Activity Optimisation enables AI-empowered Route-to-Market 3.0 solutions. It provides your sales force with task recommendations on "where-to-go", "when-to-go" and "what-to-do" and helps them to achieve the highest return-on-investment in each sales call.
Dynamic Segmentation. Find the proper fit between store segments and best-selling types of products.
Dynamic Routing. Determine the best possible route for your sales representatives by taking into account the priority and impact of an activity.
Intelligent Tasking. Provide your mobile sales force with a list of the most profitable actions to be taken at store level.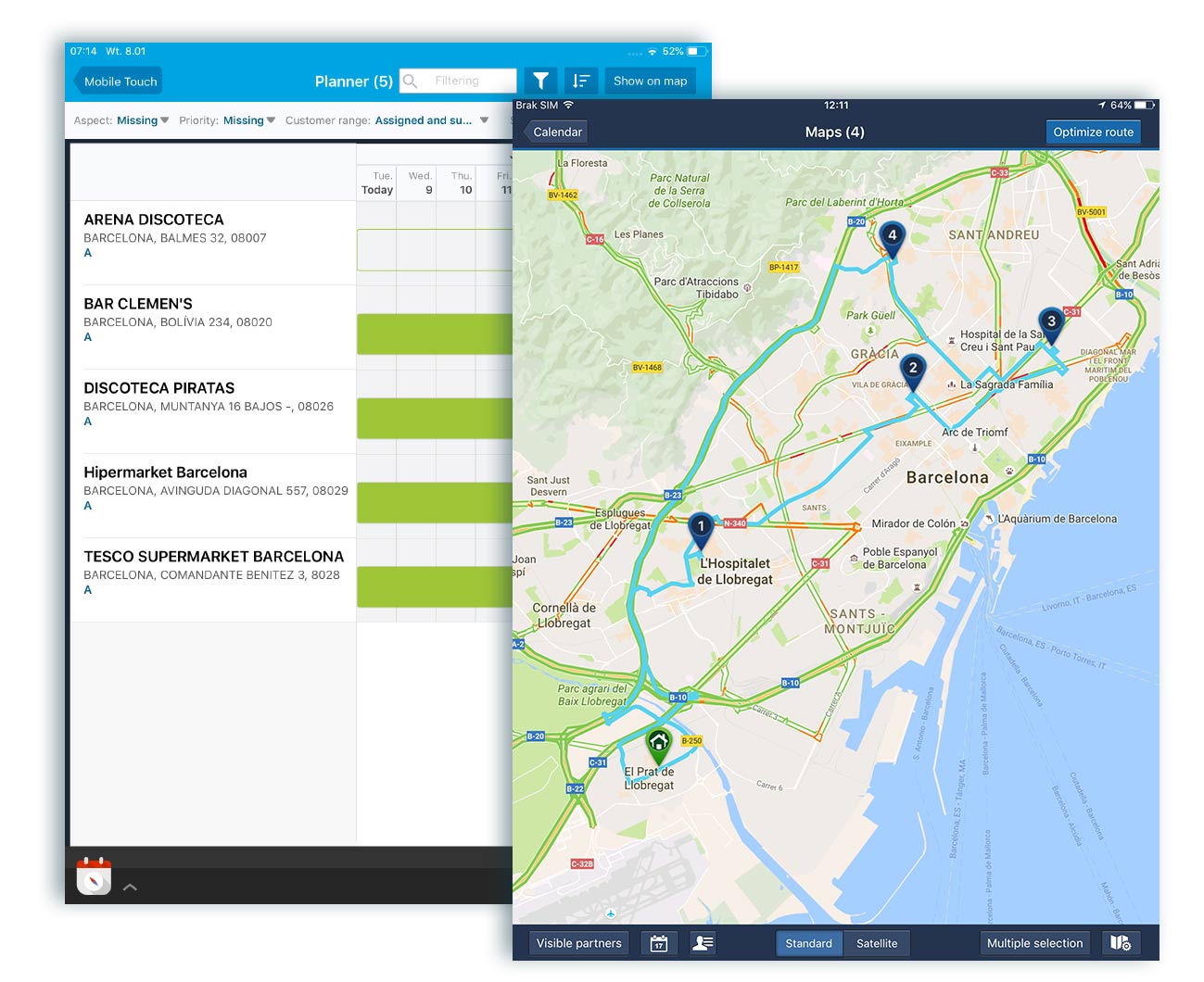 Mobile Touch Motivation helps you to improve the engagement of your field sales force, make them invest their maximum effort at the POS and introduce some fun to their daily work.
Targeting. Define quantitative and qualitative targets on granular level for individual sales representatives, stores and visits. Provide real-time feedback on goal execution.
Compensation. Link your sales force's activities with a variable compensation scheme. Calculate bonuses and provide real-time information about the compensation or bonus points earned during a call or period.
Gamification. Introduce compelling sales contests for your sales force, integrate them into their daily work and link the contests to their targets. Present leaderboards and provide reporting of the individuals' or team's results in real-time.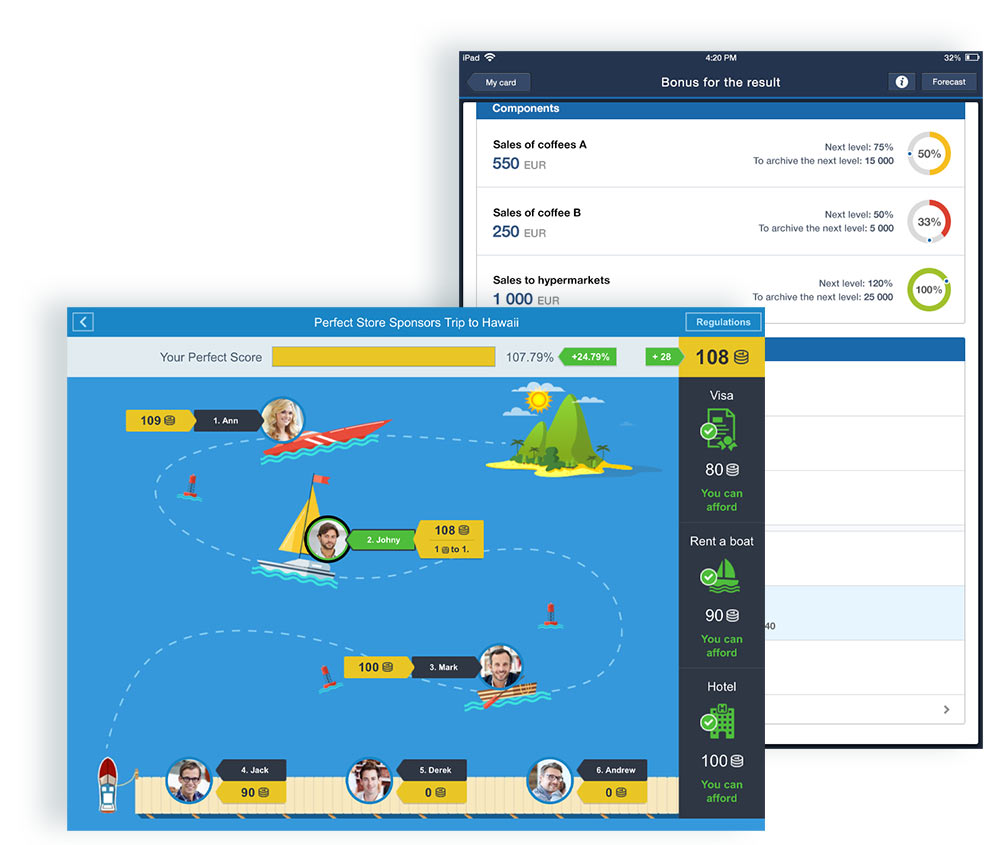 Mobile Touch Coaching allows you to complement traditional training methods with SFA technology. Continually grow your sales representatives in areas like selling techniques, personal skills and product knowledge.
Coaching model set up. Define your coaching criteria to set up the coaching process.
Coaching sessions. Plan joint on-site visits at the POS. Carry out regular coaching sessions and log them in real-time.
Coaching evaluation. Evaluate how the coached individual is evolving. Highlight those areas which require further development.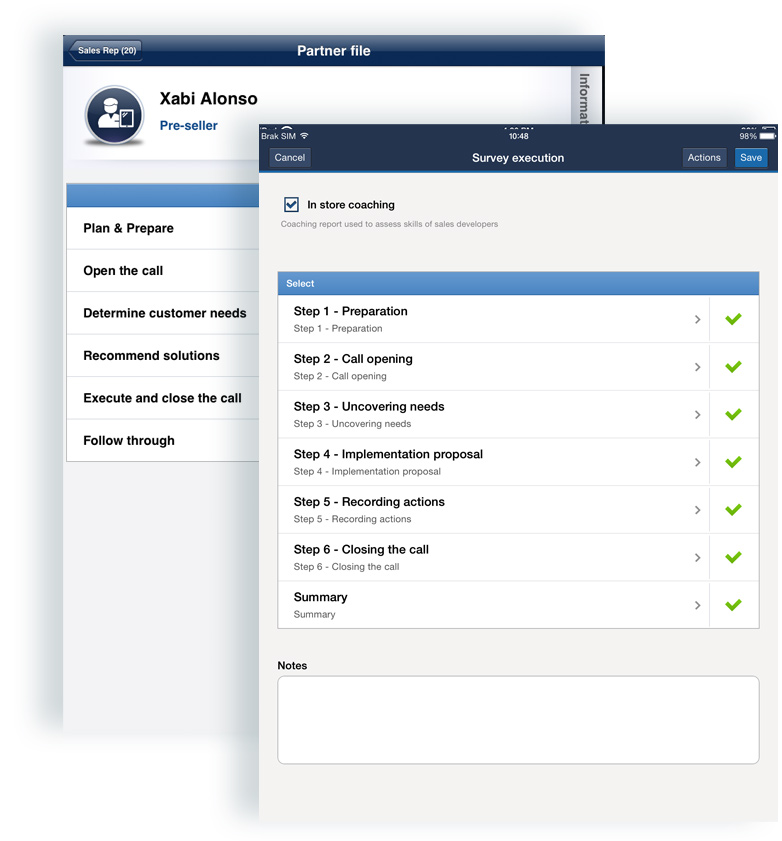 If you want to take advantage of the benefits offered by FCMG Omnichannel Platform by Asseco,
please submit your contact details and we'll get back to you as soon as possible.