A Mobile Customer Portal enables effective direct communication with customers. The solution allows FMCG manufacturers to introduce a new model of cooperation with the market and helps to sell more without increasing direct costs of the sales force. The solution complements field sales representatives' face-to-face visits with a digital two-way interaction with the points of sales, even those not supported by your mobile field sales staff.
Mobile Direct by Asseco – virtual sales visits to sell more
Mobile Direct by Asseco is a Mobile Customer Portal supporting the virtual cooperation with the points of sales in areas like Brand Communication, Orders, Loyalty, Perfect Store, Motivation and Gamification. The solution helps FMCG companies to impact on the point of sales employees at their workplace instead of hiring additional field sales representatives. It provides POS staff with appropriate information and engages them in selected sales processes.
With Mobile Direct by Asseco you can overcome the limitations of face-to-face visits such as limited time spent by sales representative in each store and limited number of visits during a month. With this solution it is possible to carry out virtual visits any day, at any time.
The solution helps to answer questions like:
How to increase my coverage in the universe of points of sales?
How to increase my sales without additional investments for the costs-to-serve?
How to sell more even in the points of sales which are supported by my mobile sales representatives?
How to collaborate more effectively with the points of sales personnel?
How to better motivate points of sales staff to constantly support my brands?
Mobile Direct by Asseco – functional scope
Mobile Direct by Asseco allows you to involve the points of sales staff in your in-store execution and make
them take care of your products more than of the products of your competitors.
Our Mobile Customer Portal supports selected sales processes, e.g.:
Up-to-date brand communication with the point of sales employees – they are provided with your current marketing messages and information on new products.
Purchase of products.
Participation in Promotions.
Fulfilment of contracts.
Participating in loyalty programs.
Keeping shelf standards and exposures in line with your Perfect Store guidelines.
Motivating points of sales staff to increase sales and earn extra points in sales competitions whilst having access to the current status of accrued benefits.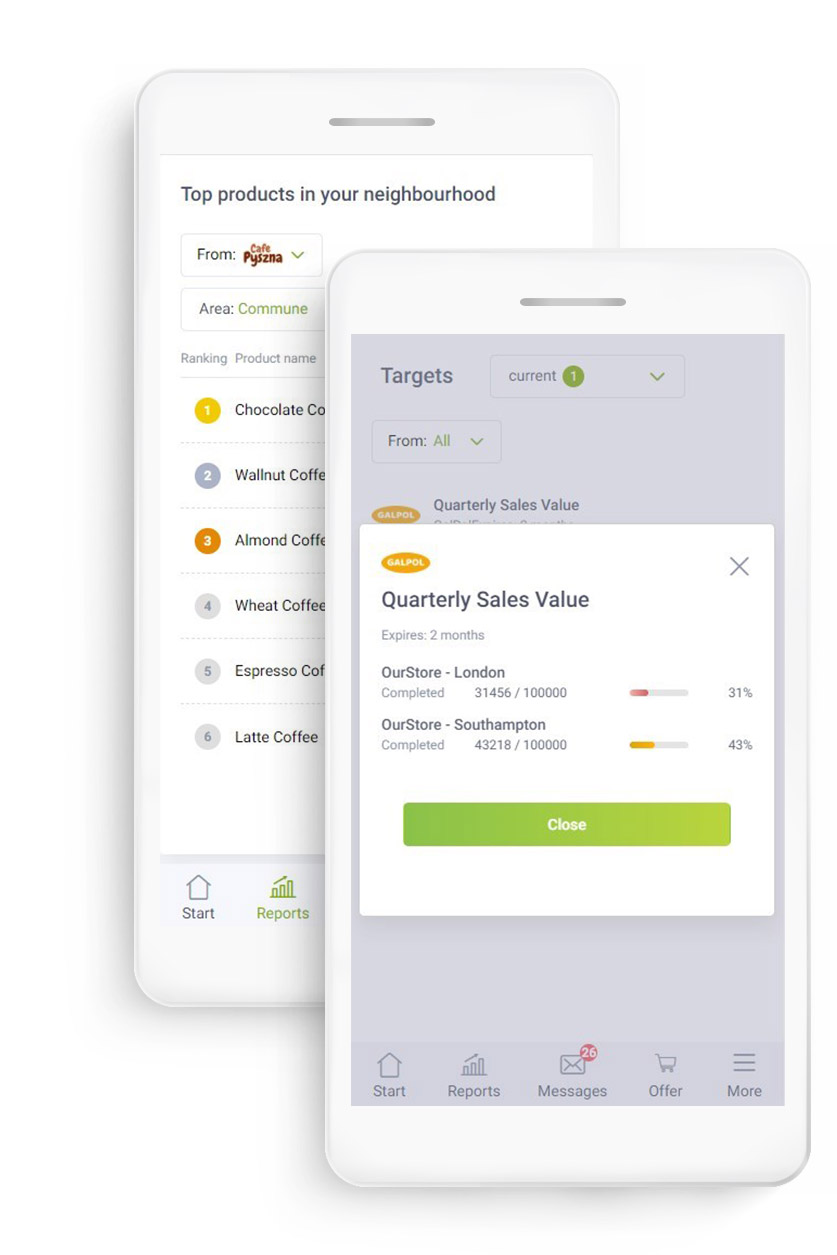 Mobile Direct by Asseco
will enable you to:
Gain new customers which are not yet covered by your field sales force.
Sell more without increasing direct costs of field sales.
Reach existing customers in a complementary way to boost sales.
If you want to take advantage of the benefits offered by FCMG Omnichannel Platform by Asseco,
please submit your contact details and we'll get back to you as soon as possible.