Our e-Commerce B2B & B2C platform enables FMCG manufacturers to introduce digital collaboration with their business partners. It supports virtual communication and online sales management. Therefore, it constitutes a very efficient route-to-market allowing you to improve your distribution processes. Implementing an e-Commerce platform is a step towards the digitalization of your sales operations.
e-Commerce B2B & B2C by Asseco – digitalizing your sales processes
e-Commerce B2B & B2C by Asseco is a web application for self-service channels. It allows you to engage your retailers, distributors, wholesalers, brokers, independent customers and consumers in self-service sales processes and collaborate with them virtually. The platform provides your business partners with 24/7 information about your brand, enables them to manage the online order and promotion processing and settlement, gives access to the review of order statuses, payments or delivery, as well as supports such areas as Loyalty, Perfect Store, Motivation and Gamification.
We offer both Connector B2B by Asseco and Connector B2C by Asseco.
e-Commerce B2B & B2C by Asseco:
a multi-platform self-service approach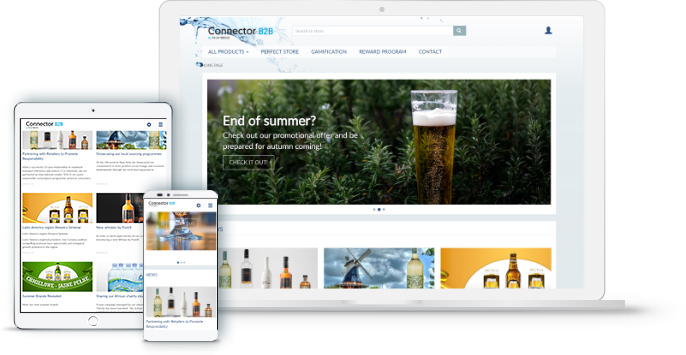 e-Commerce B2B & B2C by Asseco – a set of innovative tools for FMCG
Connector B2B & B2C by Asseco ensures very effective communication between the FMCG manufacturers and their business partners and/or consumers.
The manufacturer's brand identity can be easily embedded into Connector B2B & B2C. The brand communication may include brand values & strategies, product catalogues, visual libraries, promotions, events, etc.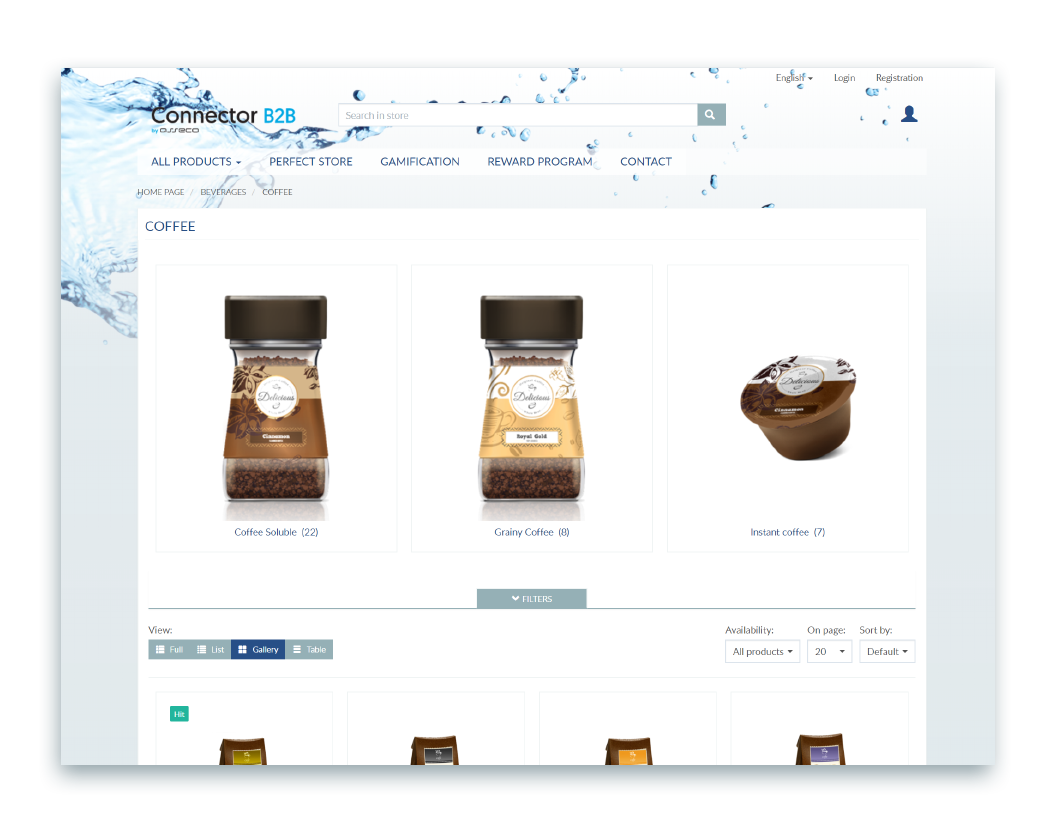 Connector B2B & B2C allows consumer goods manufacturers to provide their business partners and consumers with online access to all the key information relevant to orders.
Communication of trade terms includes access to information like offers, available quotas and stocks, promotion details and regular trade terms.
Order processing supports the generation of sales orders placed by your business partners.
Customer self-service provides information on order statuses, invoice details, delivery dates and all order documents.
VMI order suggestion helps to influence business partners to order the right quantities at the right time.
Complaints management enables the handling of suggestions and objections articulated by your customers.
e-Commerce B2B & B2C by Asseco enables effective digital customer loyalty management and building long-term relationships with customers and consumers.
The solution is designed to reward your business partners for sales activities. They may earn credits to be elevated to better trade terms. They may also earn points to be rewarded with free goods from a catalogue. The loyalty program may cover KPIs like order volume, number of orders, number of SKUs ordered from the Hero Assortment, number of promotions participated in, number of assets installed, etc.
Digital Perfect Store helps consumer goods manufacturers to introduce a digital Picture of Success to make business partners take care of its Perfect Store standards in self-service mode.
Perfect Store improves the availability and visibility of your offers. It guarantees constant quality auditing in stores, evaluating the as-is situation on site against selected to-be KPIs. Combining Perfect Store with the communication of selling stories and trade terms drives a very simple way to make your Picture of Success hitting unserved customers as well.
Digital Motivation allows you to increase the engagement of your customers.
The solution offers plenty of motivation enablers to make your business partners sell more. You can provide them with dedicated targets and reward the accomplishment of targets with related trade terms. Motivation helps to improve the impact of your loyalty programs.
Digital Gamification enables you to organize virtual contests for your business partners.
The solution can consist of loyalty and/or motivation programs going beyond just one business partner. You can apply gamification elements by building national, regional or local competitions among your unserved customers.
e-Commerce B2B & B2C by Asseco
will enable you to:
Eliminate manual order intake.
Reduce the time needed to process orders placed by business partners and consumers.
Sell more without increasing the cost-to-serve.
Improve customer service due to more timely responses and transparent communication.
Expand your Perfect Store standards to unserved business partners.
Increase your partners' engagement by using Loyalty, Motivation or Gamification elements.
If you want to take advantage of the benefits offered by FCMG Omnichannel Platform by Asseco,
please submit your contact details and we'll get back to you as soon as possible.