Our sales engagement platform Omnichannel for FMCG by Asseco empowers consumer goods companies in more than 50 countries for over 20 years. In the beginning, we had covered mostly European markets. Over the last five years, we have expanded to Asia, Australia, the Middle East and LATAM. Finally, in 2020 it landed in Africa and early 2021 we will complete our inaugural North American deployment.
Omnichannel for FMCG by Asseco is used in the meanwhile by more than 400 FMCG businesses, both multinational and regional while supporting more than 55,000 FMCG sales users. They are operating in sectors such as food, beverages, cosmetics, healthcare, OTC and others.
What fuels our global expansion?
Our only mission remains to help our FMCG customers secure sales and ensure domination at the shelf in the rapidly changing consumer goods word, no matter what time zone, country or region their sales teams are based. We execute our vision of the Future of Sales, putting the best ideas into practice with passion. We promote break-through concepts and create new sales solutions enabling our users to sell more and better.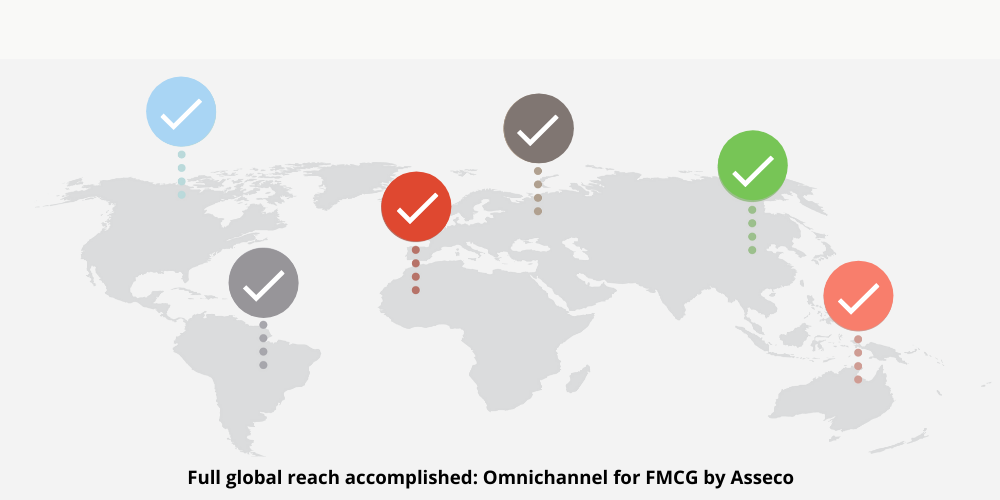 What is important in 2021?
"Doing more" is the only way to win the future in the FMCG markets. It includes entering new channels, transferring some sales processes into the virtual world, engaging more parties like customer & retailer personas, combining brick-and-mortar with on-line sales, using the power of data to generate insightful sales recommendations. The latter will help our customer to find compelling new answers for questions like "Where-to-go", "When-to-go" and "What-to-do". It will, for sure, be our guideline for 2021 – the year of intelligent sales recommendations.