The next-generation Route-to-Market is not only about reaching the right customers at the right time based on dynamic Segmentation and dynamic Route Optimisation (where-to-go): it is essential, but it is just the beginning. The AI-driven RTM strategy includes another piece of the puzzle, which means in-store execution as well. When receiving specific and insightful recommendations about "what to do", your field sales force can act appropriately at the POS and generate the highest sales during a visit. How to do this?
The data-driven Route-to-Market strategy uses Artificial Intelligence to pars a massive amount of different sourced data. At first, it converts the data into insights: it then turns the insights into task recommendations for your field sales representatives, suggesting to them a list of specific steps to be taken at the point of sales ("to-dos"). Are you ready to start this exciting journey?
Here are some tips:
1. Bring the AI capability into the hands of your field sales staff
Embed AI-powered Retail Activity Optimisation into your mobile retail execution technology. It quickly and easily helps you to provide your sales force with the recommendations on the most effective actions at visited stores - all calculated automatically to enable them to achieve the highest possible income. More than that, the solution updates its suggestions dynamically when the situation changes.
2. Put RAO into practice
What kind of suggested sales strategies can you expect from optimising retail activities? There are many examples, e.g.:
When seeing a drop in sales at a particular store, RAO proposes a series of corrective actions like the tailored promotional offers.

When a store reveals the potential for higher sales in some category, RAO recommends specific and targeted activities, like improvements in merchandising.

When seeing a risk of out of stock, RAO alerts your sales representative immediately to contact the client and suggests a replenishment order.

When noticing a Perfect Store score decline, RAO suggests corrective activities like improving the product's availability or visibility in order to improve the KPIs.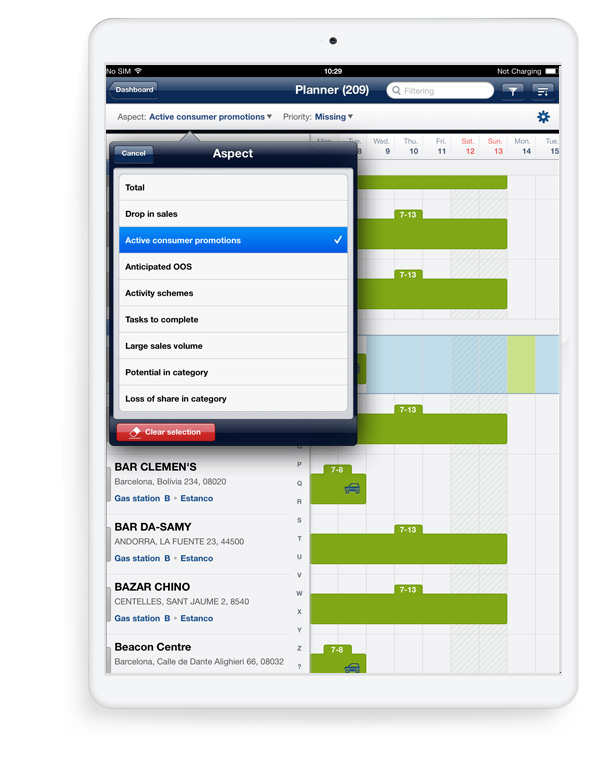 4. Gain benefits
Retail Activity Optimisation allows you to support data-driven decision-making effectively. It enables you to react in response to the current situation in the precisely selected retail outlets, at the right time. Because of this, you can make an impact in-store and influence better the purchasing decisions of consumers. As a result, you increase sales or improve the situation leading to growing income in the future.
Mobile Touch Retail Activity Optimisation by Asseco
Mobile Touch Retail Activity Optimisation by Asseco is an important retail execution differentiator for consumer goods companies. The solution allows you to identify sales opportunities better and use smarter sales tactics. It has also been recognised as the "POI Best-in-Class Recipient" numerous times for its excellent "Where-to-go & What-to-do" features.