The Promotion Optimization Institute included our retail execution solutions in its recent report "2019 Vendor Panorama for Retail Execution and Monitoring in Consumer Goods". We have once again been ranked very high by POI both in the company and product assessment. More than that, we have been recognized as a "POI Best-in-Class Recipient" many times for our innovative solutions.
The POI Vendor Panorama every year presents the most significant providers of mobile retail execution technology for consumer goods companies. They are assessed in terms of factors like viability, geographic strategy, responsiveness and track record, deployment capabilities, market understanding, vertical/industry strategy, partner leverage and vision. Additionally, all the solutions are analysed whilst considering their aptness and flexibility, delivery flexibility, completeness, sell-more capabilities, user experience, analytical capabilities, vision and configurability.
This year's report assesses twenty representative vendors offering mobile retail execution technology and sell-more capabilities to help consumer goods manufacturers strengthen their competitiveness and innovation.
Retail Execution by Asseco in the POI report 2019
The Promotion Optimization Institute sees our company as a growing, innovating and expanding globally continued innovator. POI predicts that we will ultimately be a global leader.
The report confirms our excellent vision, exceptional focus on innovation and strong product roadmap, enabling sales effectiveness and efficiency in all classes of trade and in all geographies.
Our solutions like Retail Activity Optimisation, Gamification, Coaching and UX (User Experience) achieved once again "Best-in-Class Distinctions" for being significant differentiators helping the FMCG industry to sell more.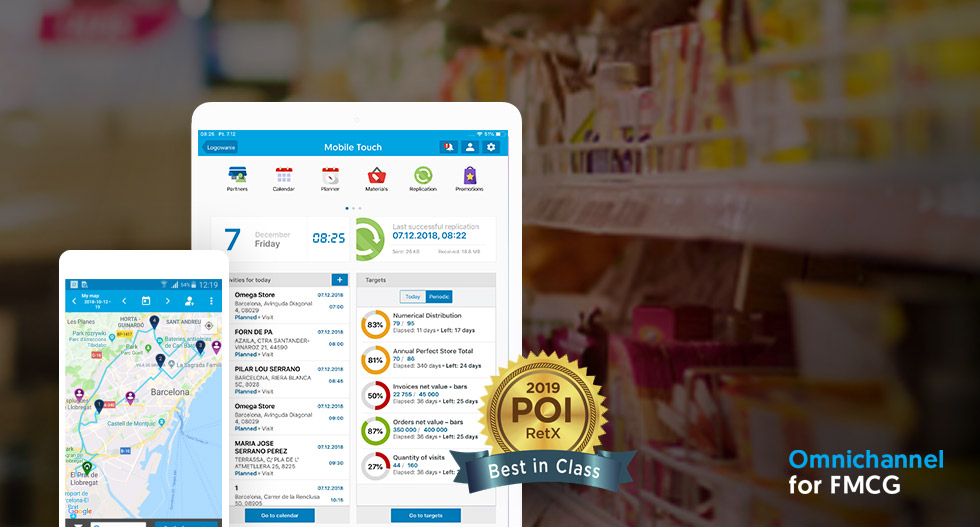 About the author
Pam Brown, Chief Commercial Officer at the Promotion Optimization Institute, is the author of the report "2019 Vendor Panorama for Retail Execution and Monitoring in Consumer Goods". In her role, she is responsible for creating and executing the POI strategy, advice and research.
About the Promotion Optimization Institute
The Promotion Optimization Institute brings together manufacturers, retailers, solution providers, analysts, academics and other industry leaders with the specific objective of collaboratively improving the promotion and distribution of consumer goods. Members of POI share cross-functional best practices in both structured and informal settings.
POI European Promotion Optimization Summit
We are very pleased to invite you to meet us and talk to us during the POI European Promotion Optimization Summit "Collaborate Globally and Execute Locally" which takes place in Rotterdam, the Netherlands on May 14th-16th, 2019.  This year's edition of this prestigious event entitled "Successfully Navigating Growth in the New CPG and Retail World" is devoted to many dimensions of Retail Execution processes in FMCG. We will be delighted to share our Best Practice Know How and discuss about innovative Omnichannel approaches for the FMCG industry, bringing your offline brick and mortar sales processes together with digital cooperation with your business partners and retailers.