The Omnichannel approach is an opportunity for consumer goods manufacturers to dominate its category not only in bricks-and-mortar but also in the online world. What does it mean? FMCG companies need to complement their offline sales processes with digital services. Thus, they must re-shape their retail execution strategy quite radically. The sooner the better! The retail environment is already going Omnichannel in full swing.
The FMCG industry is again evolving very fast, because online shopping never stops emerging in FMCG categories. That is why changing the go-to-market model is necessary to improve retail execution – to sell better and sell more.
The digital transformation requires combining both offline and online go-to-market strategies. Such an Omnichannel approach will enable you to use many sales channels at the same time. Consequently, you will increase your customer base and sell better and more without increasing the direct costs of your sales force.
What an Omnichannel solution can offer for the FMCG industry?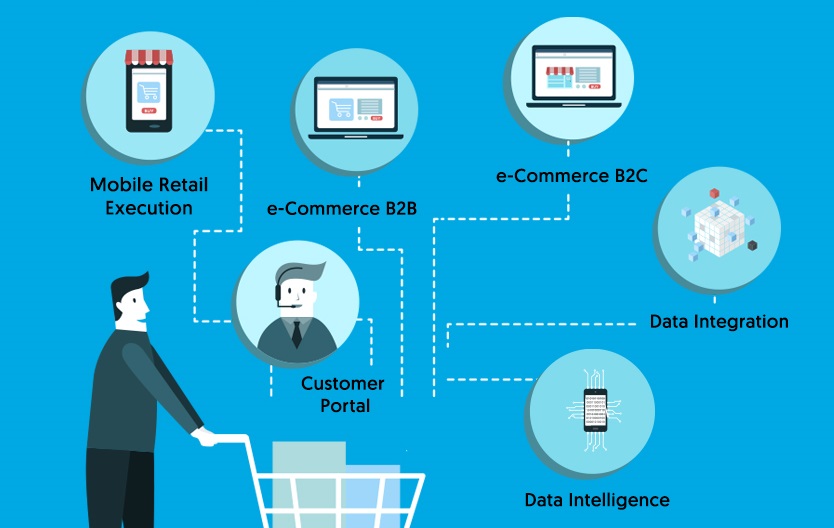 Mobile Retail Execution – a set of Sales Force Automation solutions enabling effective in-store performance and improving sales excellence. These include fundamental functions & features centred on routes, calendar, in-store execution (e.g. surveys, promotions, orders, contracts, assets, inventories, etc.). In addition, it covers advanced features like Perfect Store, Retail Activity Optimization, Motivation, Coaching and Smart Presentation.
Mobile Customer Portals – a digital cooperation platform with the customers supported and even not supported by your mobile sales force. You can reach your existing customers in a complementary way. You can reach new customers not yet covered by your traditional sales force. A mobile Customer Portal enables direct online partnerships at the point of sales level to provide brand communication, order management, loyalty programs, Perfect Store and Motivation.
e-Commerce B2B and B2C – a self-service platform in 24/7 mode providing your business partners (B2B) and consumers (B2C) with information on your products, promotions, insights, etc. allowing them to manage online order processing and settlement, review order status and delivery information virtually. This can include logistical features like VMI for retailers and Subscription Models for consumers.
Data Integration – the ability to collect demand signals from distribution channels/stores and generate significant business insights to support your decision-making process.
Data Intelligence – solutions leveraging the latest technologies like Image Recognition, Advanced Analytics, Artificial Intelligence, Machine Learning and Deep Learning driving data into insights and turning insights into tasks for the sales team.
Omnichannel for global FMCG leaders
The FMCG Omnichannel Platform by Asseco consists of a set of comprehensive solutions for sales excellence in the consumer goods industry. It includes Customer Relationship Management, Sales Force Automation, Retail Execution, Perfect Store, Retail Activity Optimisation, Customer Portals, B2B & B2C eCommerce Portals, Data Integration, Data Intelligence, Image Recognition, Machine Learning, Artificial Intelligence, VMI, etc. What is important, it works like a menu card. The customers can choose the solutions needed to support integrated sales strategies according to their category and Go-To-Market models.
Read more about Omnichannel for FMCG.